Kavango-Zambezi TFCA Map
Spanning five southern African countries (Angola, Botswana, Namibia, Zambia and Zimbabwe), the Kavango Zambezi Transfrontier Conservation Area (KAZA TFCA) is on the verge of becoming one of the world's largest conservation-oriented landscapes. The KAZA TFCA, located in the Okavango and Zambezi river basin regions, includes, for example, the Caprivi Strip, Chobe National Park, the Okavango Delta (the largest Ramsar site in the world) and the Victoria Falls World Heritage Site.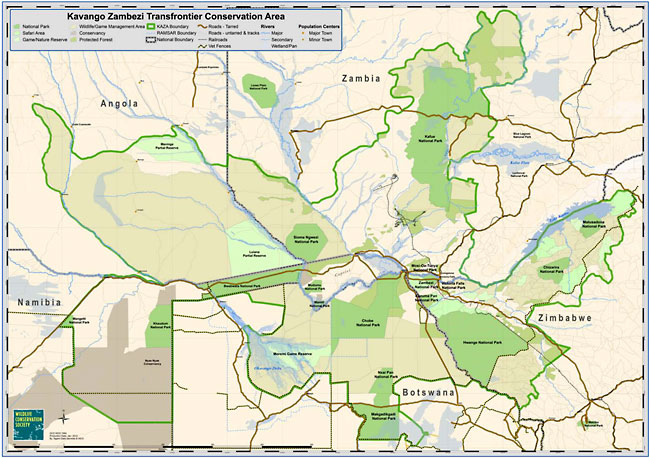 Click map to view and download PDF
The material and geographical designations on the map do not imply the expression of any opinion whatsoever on the part of WCS concerning the legal status of any country, territory, or area, or concerning the delineation of its frontiers or boundaries or those of the TFCA.
---

Área de Conservação Transfronteiriça Kavango-Zambezi
A ACTF KAZA, localizada no Okavango e Bacias do rio Zambeze, que incluem, por exemplo, a Faixa de Caprivi, Parque Nacional do Chobe, o Delta do Okavango (o maior local de Ramsar no mundo) e as Cataratas de Vitoria, Património Mundial.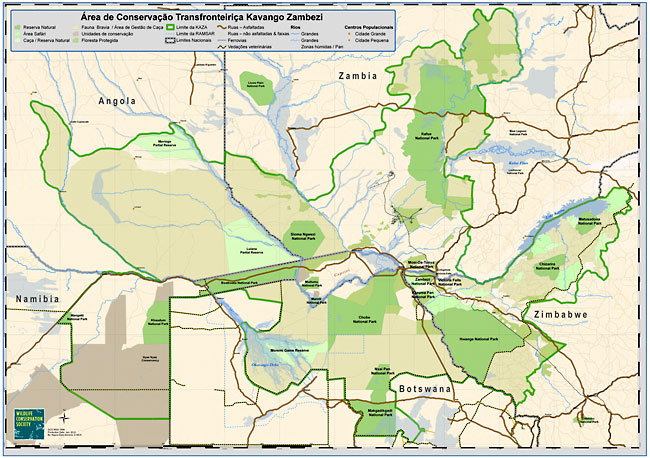 Click map to view and download PDF
As designações materiais e geográficas no mapa não implicam a expressão de qualquer opinião por parte da WCS sobre o estatuto jurídico de qualquer pais, território, ou região ou a delimitação de suas fronteiras ou limites ou os da ACTF.