2019 (No. 4)
AHEAD Update
Dear AHEAD Colleagues:
Welcome to the latest issue of the AHEAD Update. We hope you won't be too shocked, but after 16+ years we thought our newsletter deserved an "update" too!
As always, if you would like to post an item in the next Update, please just send it to us - thanks.
New Resources
Atkinson SJ, et al. (2019) Gap Analysis on the Implementation of Commodity-Based Trade of Beef in Ngamiland, Botswana. AHEAD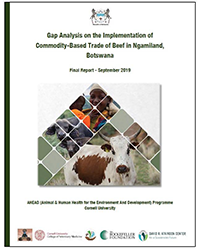 The Government of Botswana has committed to implementing commodity-based trade (CBT) of beef. To assist in these efforts, the AHEAD consortium, in collaboration with Botswana's Department of Veterinary Services (DVS), has provided technical support on the practicalities of implementing the approach in Ngamiland.
This new report offers a detailed analysis of the situation in Ngamiland, identifies key gaps that need to be addressed for CBT to be successful, and offers clear, practical recommendations for moving forward. While focused on Ngamiland, the study will also be useful across the wider 5-nation KAZA landscape and potentially SADC more broadly.
This final version reflects input received at a stakeholder validation workshop hosted by Botswana's DVS in partnership with AHEAD in July 2019. Suggested modifications identified by stakeholders were incorporated directly into the final report itself.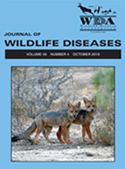 Osofsky SA (2019) The Global Burden of (How We Manage) Animal Disease: Learning Lessons from Southern Africa. Journal of Wildlife Diseases
It is long past the time when we should be recognizing that the potential impacts of animal health interventions focused on livestock may in fact be far from environmentally benign. "First, do no harm" must apply to animal health policy-making as much as these wise words apply to clinical practice.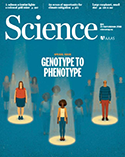 Damschen EI, et al. (2019) Ongoing Accumulation of Plant Diversity Through Habitat Connectivity in an 18-Year Experiment. Science
Restoring habitat connectivity can pay dividends for conservation, as demonstrated by this long-term study on the value of habitat corridors for plant diversity.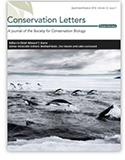 Branco, PS, et al. (2019) An Experimental Test of Community-Based Strategies for Mitigating Human-Wildlife Conflict Around Protected Areas. Conservation Letters
The authors combined movement data from GPS-collared elephants with camera trap data and local reporting systems in a before-after-control-impact (BACI) design to evaluate community-based strategies (involving beehive and/or chili fencing) for reducing crop raiding outside Mozambique's Gorongosa National Park.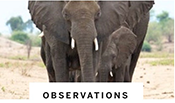 Osofsky SA (2019) Of Animal Germs and Pachyderms. Scientific American
Consider this novel approach for making Africa's largest transfrontier conservation area a success.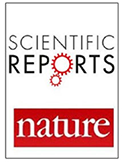 Lycett S, et al. (2019) The Evolution and Phylodynamics of Serotype A and SAT2 Foot-and-Mouth Disease Viruses in Endemic Regions of Africa. Scientific Reports
This paper describes the phylodynamics of serotypes A and SAT2 in Africa, including recent isolates from Cameroon. However, the lack of detailed sequence data available for Africa seriously limits our understanding of FMD epidemiology across the continent, and points to the need for a major scaling-up of surveillance and sampling.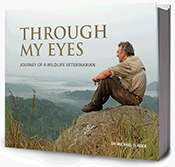 Kock MD (2019) Through My Eyes: Journey of a Wildlife Veterinarian. IWVS Africa
Dr. Michael Kock has produced an extraordinary coffee table-sized book, a conservationist's powerful visual journey across Africa and beyond. Dr. Kock (an AHEAD alum!) has assembled mesmerizing images and narrative that highlight the challenges of sustainable conservation in the face of the tremendous pressures generated by inequality, corruption, population growth, and poverty. Noting that a picture is indeed worth a thousand words, please visit the book website.
New Video
The African Vulture Crisis: Causes, Consequences, and Solutions
African vultures are in severe decline from multiple threats, especially poisoning, with dire consequences for the species themselves and the ecosystems they support. This short video, produced by The Cornell Lab of Ornithology for the recent CITES COP, provides a valuable educational tool for African policymakers as well as the broader conservation community.
Upcoming Meeting
6th International One Health Congress - Call for Abstracts. 14-18 June 2020, Edinburgh, Scotland
Co-organized by the One Health Platform, the University of Edinburgh, Africa CDC, and the Southern African Centre for Infectious Disease Surveillance, the 2020 congress will bring together 1,500 One Health researchers, policymakers, representatives of international institutions, commercial partners, and postgraduates. The call for abstracts is now open with programing centered around three focal areas: One Health Science, Antimicrobial Agents & Resistance, and the Science Policy Interface. The deadline for abstract submission is 15 January 2020.
Training Opportunities
Malilangwe Course on Chemical and Physical Restraint of African Wildlife. 7-16 February 2020, Malilangwe, Zimbabwe
Applications for the 7-16 February 2020 course are now open. Organized and coordinated by the Zimbabwe Wildlife Veterinary Trust in conjunction with the Government Veterinary Services Wildlife Unit and other partners, this 10-day course takes place at Malilangwe Wildlife Estate near Gona-Re-Zhou National Park in Zimbabwe. Over the past 30 years, this course has educated wildlife health and management professionals from all over the world in the science and art of chemical and physical restraint of wild animals. Participants obtain a wealth of both theoretical and practical experience, including hands-on training.
Cambridge Masters in Conservation Leadership
Applications for October 2020 entry are now being accepted. The MPhil degree is a full-time, 11-month, masters course, aimed at graduates of leadership potential with at least three to five years of relevant experience. Competitive scholarships are available to anyone with outstanding conservation leadership potential who is not able to fund their studies from other sources. Priority is given when allocating scholarships to students from countries rich in biodiversity but poor in financial resources. Applications must be received by 3 December 2019. Applicants are also encouraged to seek scholarship support from other sources.
STEPS Centre 2020 Summer School on Pathways to Sustainability. 11-22 May 2020, Brighton, UK
Applications are invited from highly motivated doctoral and postdoctoral researchers working in fields around development studies, science and technology studies, innovation, and policy studies. Participants will explore the theme of 'pathways to sustainability' through a mixture of workshops, lectures, outdoor events, and focused interaction with STEPS Centre members. The Summer School takes place on the University of Sussex campus, near Brighton, UK on 11-22 May 2020. Applications for 2020 entry are now open and must be received by 26 January 2020. There is a fee to attend, but scholarships are available.
Again, if you have items for the next AHEAD Update, please just let us know - thanks.
Yours in conservation and development,
Steve & Shirley
Steve Osofsky, DVM
Cornell University, College of Veterinary Medicine
Jay Hyman Professor of Wildlife Health & Health Policy
AHEAD Program Coordinator
s.osofsky@cornell.edu
Shirley Atkinson, MSc
Cornell University, College of Veterinary Medicine
Assistant Director, Wildlife Health & Health Policy
AHEAD Regional Coordinator
s.atkinson@cornell.edu
What is AHEAD?
AHEAD works to create enabling environments that allow different and often competing sectors to literally come to the same table and find collaborative ways forward to address challenges at the interface of wildlife health, livestock health, and human health and livelihoods. We convene stakeholders and provide technical support and resources for projects locally identified as priorities. AHEAD, one of the first applied One Health programs, recognizes the need to look at health, disease, and the environment together, while always taking a given region's socioeconomic, political, and policy context into account.